Bubble Machine Hire – the Overlooked Party Hire Option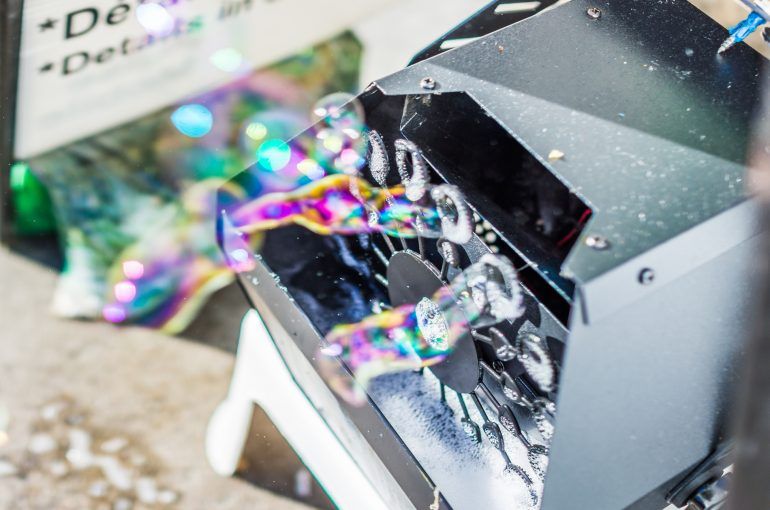 Are you looking for a party idea that is fun, affordable and won't take up too much space? If you are, then I urge you to consider bubble machine hire – our bubble machine hire here at The Fun Team.
Bubbles have been bringing enjoyment to kids long before I was a kid, and that's going back! They are the epitome of harmless fun and the purest form of fun you can possibly get – yet, kids never tire of them. Moreover, they are great for many occasions, not just birthday parties.
At the Fun Team, we have many machines available for hire, including our bubble machine, which, to be honest, doesn't get the respect it deserves! What's not to love about bubbles? Continue reading as I provide solid reasons to hire a bubble machine for your next party or event.
Suitable for all ages
Whether you're 2 or 20, you have to admit, you see a bubble and you want to try and catch or pop it. With bubble machine hire, you can service all ages; whether you're throwing a party for kids, teenagers or even adults. Moreover, bubbles are great for improving coordination, motor movement in children and visual tracking skills.
There is no age restriction to who is allowed to enjoy bubbles, and if anyone tells you you're too old to play with bubbles, ask them to go away!
Suitable for various events
Bubbles are a hit not only with all ages but for all types of events too! Whether you're throwing a kids birthday party, special display,  stage performance, dance party or even a fun run event, you will find swarms of people gathering around the bubble machine laughing, smiling and having a good time. Even I got in on the bubble fun at a recent Colour Run event, and I certainly wasn't the only adult having a ball of a time!
Bubble machines can create a great effect and add an extra element of fun and excitement for any occasion or event.
Super affordable
Is there any cheaper form of fun than bubbles? Really, bubble machine hire is so affordable that anyone can afford it. At The Fun Team, we hire out our bubble machine for just $40. That's for 3 hours of use and with bubble fluid provided.
Can you think of any other form of entertainment and enjoyment, that attracts and holds the attention of many for a lower price? I know I can't!
A fun form of exercise
Lastly, bubble machine hire provides a fun form of exercise without participants even realising they are exercising. When bubbles are blown from the machine, the natural reaction is to fun after them and try to catch them or pop them. This, combined with the ability to hold one's attention for a significant period, means they're getting a little workout without the dread or discomfort of actually exercising. It's a win-win situation!
Conclusion
It's time to make bubbles cool again! By hiring of a bubble machine from The Fun Team, you can create an instantly fun atmosphere that appeals to all ages, and is suitable for a variety of occasions; kids parties, fun runs, festivals, raves etc. Bubbles are super affordable and provide exercise without you even realising it!
If you'd like to hire a bubble machine on the Sunshine Coast, turn The Fun Team's bubble machine hire. From just $40 per hire, you'll agree, it's super fun at a super low price! Call 0412 313 335 to hire our machine for your next occasion or event.Bubble Machine