Party Food Ideas for a Kids Birthday Party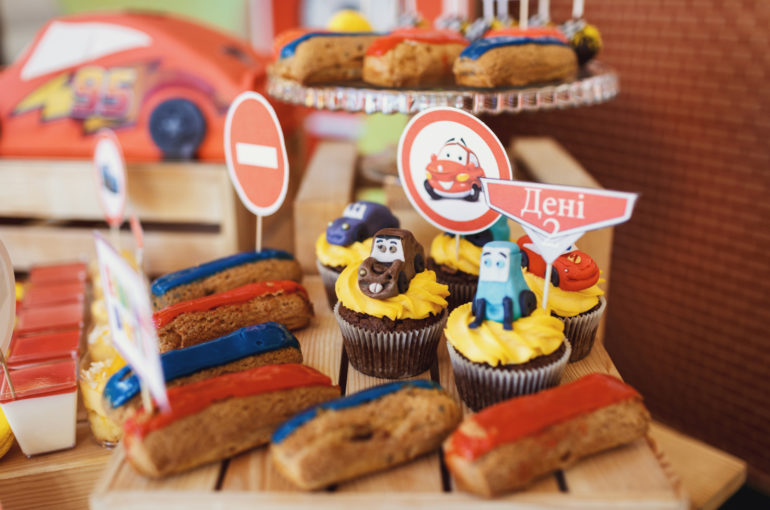 When planning a kids birthday party, party food is one important element that shouldn't be overlooked. Remember, this is a kids birthday party and not a grown-up party. Therefore the party food you choose needs to be catered towards children – and we all know how fussy they can be! Therefore, while you think about what types of food items to serve, consider items that are guaranteed to be a hit with kids.
As the owner of The Fun Team, a company that specialises not only in party hire but also in party food hire on the Gold Coast, I know just what you need to ensure the kids will love your party food.
Today, I'll list some popular party food ideas for you to consider. Choose any of these food items, and the kids will be sure to love your party!
Themed Party Cake
Depending on the theme of the birthday party, arrange for a themed party cake accordingly. Whether it is a dinosaur themed cake, a pirate themed cake or a fairy theme cake, kids will love you for it! And don't forget – we also offer great themed jumping castles that are ideal for themed birthday parties!
Mini Pizzas
Everybody loves pizza and including mini pizzas in your party spread will make your party food an instant hit. Just make sure to include healthier snacks as well to provide a balanced diet.
Ice Cream Cupcakes
Use mini-sized cones to create ice cream cupcakes and hand them out to everyone at your party. Not only are ice cream cupcakes easy to make, but they're a guaranteed hit with everyone as well.
Mini hotdogs
Mini hotdogs are perfect for kids birthday parties, and they can be prepared in very little time. Cook up a batch of mini hot-dogs or mini dagwood-dogs in the oven and have them on stand-by for food time.
Wraps
As an alternative to the boring sandwiches – and to add a health touch, serve wraps at your party to keep the kids interested. Keep the wrap fillings simple and make sure to add lots of vegetables.
Chicken fries
Fried chicken is easy to make and is very kid-friendly, making it the perfect party food for a kids birthday. Coat chicken with bread crumbs, parmesan cheese and crushed potato chips to make the fries crispier and tastier.
Fairy bread
Seriously, what kid doesn't love fairy bread?? Top up bread with sprinkles and cut them into interesting shapes to create fairy bread. It is dead simple to prepare and is perfect for a princess or fairy birthday party.
Hot chips
Like fairy bread, you can't go wrong with hot chips at any party. To serve fries in perfect portions, pour tomato sauce into colourful plastic shot glasses and stuff fries into them. The kids will love it!
So, there you have it. These are some of the most popular party food items that you can arrange yourself for and kids birthday party. However, if making your own party food looks like way too much effort, or you simply don't have the time to spend making party food – then you should consider party food hire on the Gold Coast.
Here, at The Fun Team, we offer party food machines for hire, which are ideal for your upcoming child's birthday. We offer popcorn machines, snow cone machines and fairy floss machines at affordable hire rates. Click here to view our food machines and the pricing. With us around, you needn't spend hours in trying to make party food – we have an easier option for you.
Conclusion:
When it comes to organising party food for a kids birthday, it's important to choose food that the kids will love. Some popular party food ideas you consider are a themed party cake, mini pizzas, ice cream cupcakes, mini hotdogs, wraps, chicken fries, fairy bread and hot chips.
Alternatively, to save time and effort, you can make use of our party food hire on the Gold Coast. Our food machines are guaranteed to make your party a hit with people of all ages! To hire our party food machines, give us a call at 1300 152 132 today!