4 Ways to Ensure Your Kid's Party Doesn't Suck!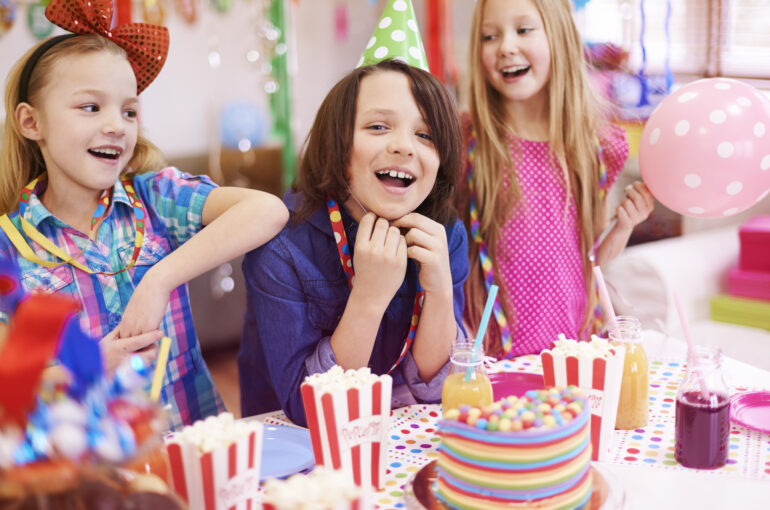 Have you promised your son or daughter an epic birthday party to make up for a missed celebration through COVID-19? You're not alone! Many parents on the Gold Coast, Tweed, and indeed, across Australia have done the same; to make their children feel better about not throwing a birthday party in 2020, they've promised an even bigger and better party this year.
Now, the pressure is on. You won't want to over promise and under deliver now, do you?
At The Fun Team, we understand that your children's happiness is paramount, and ensuring they're happy on their birthday is even more critical.
To help you plan the very best party for your child, we've compiled a list. A list of things you can do or incorporate into your kid's party to ensure it won't suck and that they – and their friends – will have a ball of a time! And, as kids party specialists on the Gold Coast, we're more than experienced to provide professional help on this matter! We've been helping parents like yourself arrange epic kid's party on the Gold Coast and Tweed since 1996!
So, without any further ado, here are 4 ways to ensure your much-hyped kid's party doesn't suck!
Plan for Greatness
Like any party, planning is essential! We're talking about kids here, so we can't expect them to fill in four or more hours on their own – that's a sure way to throw a party that sucks! Kids have a short attention span, and they need to be entertained… they EXPECT to be entertained.
Entertainment is one important area to plan, which we'll touch on soon, but before you think about how you'll keep a bunch of kids entertained, you first need to consider numbers and venue. How many kids are you comfortable hosting? How will you entertain and feed so many kids? Is there enough space at home, or do you need to find another location?
Consider the pros and cons of the various locations before making a decision. Just remember, the location needs not only to be convenient for you, but it also has to be a fun for the kids.
Read, 'How to Choose the Perfect Kids Party Location' for tips.
Have Multiple Entertainment Options
As I mentioned above, kids not only need to be entertained at a kids party on the Gold Coast, they expect to be entertained! Half the excitement of going to a kids party for your children's friends is the anticipation of waiting to see what activities they'll be doing.
A kids party is a mini excursion for them. They need to be stimulated and having only your typical kids games, pin the tail on the donkey, hot potato, musical etc. simply isn't cool in 2021. It's a surefire way to let your child down and throw a lame party.
Remember, you've promised to throw them an epic party to make up for missing out last year. So you need to think big. Buy big doesn't need to be expensive. For example, our kids party hire options are very affordable. You can hire one of our jumping castle promotions for a half-day hire, a professional face painter, a balloon twister, or kids nail artist, all for just $150 each. Hiring professional kids entertainers is a great way to take the pressure off yourself, and kids feel more special when professional kids entertainers are at their party.
As I mentioned, having one activity isn't enough. You really need at least two or three, and at just $150 per service, I think you'll agree that's a price anyone can afford.
Throw a Themed Kids Party
I'm a sucker for a themed kids party, and that's because a) kids love them and b) it's easier to plan a party around a theme than to have no theme.
Throwing a themed kids party is a sure way to ensure your kid's party doesn't suck! You can do so many fun things, from themed party decorations to party food, through to the entertainment! You may even enjoy planning the party yourself!
Consider this; your child LOVES dinosaurs or princesses. Obviously, you can't get a dinosaur or princess to come to the party, but you can get everything under the sun themed as such. One of the best-themed kids party hire options is a jumping castle, and what kid doesn't love a jumping castle? Well, in our jumping castle range, we have dinosaur and princess themed jumping castles that will surely add to the festivities and be the highlight of the party.
Read our earlier post, 'Tips on Throwing a Themed Kids Party' for further advice.
Food Needs to Be Cool Too!
There are so many factors to consider planning a kid's party that food can be an afterthought. Don't let this happen to you. You need your food options to be just a cool as your entertainment options! Kids are critical, and serving fairy bread and sausage rolls won't cut it. Not if you're looking to impress!
Think outside the box and consider hiring food machines on the Gold Coast. Consider the excitement on your kid's face and their friend's faces when they see a popcorn machine or a snow cone machine, or even a fair loss machine!
Again, for just $150, you can hire food machines such as these from our food machine range. And, if you pair them with one of our jumping castles, you'll get the food machines for just $120 per hire.
Conclusion
If you're looking to make up for not throwing your child a party in 2019 by throwing an even bigger and better party in 2020, then there are a few ways to make this happen.
First, consider the venue and how many kids will come – the location of the party has to be a fun environment for the kids; where they can run around and have fun without hurting themselves or stressing you out.
You NEED great entertainment. DIY party games won't fly. Today's benchmark for a "cool" kids party is high, and you don't want to over promise and under deliver. Think outside the box and consider party hire services they surely won't suck – consider such things are hiring a jumping castle, a professional party entertainer such as a face painter, kids nail artist or balloon twister.
Consider throwing a themed party where everything is themed – from the decorations to the entertainment options. You'll be amazed by the themed jumping castles we have in our range.
Lastly, you need great food. Fun food that's as cool as the entertainment! Consider easy food options like our food machines. We have popcorn, snow cone, and fairy floss machines that will surely help ensure your kid's party doesn't suck!
For all your kids party hire needs on the Gold Coast and Tweed, see the team at The Fun Team! We have everything you need to throw an epic kids party that will impress even the toughest of critics, kids!
Call us today on 0412 313 335 or make an online enquiry.