How To Throw A Jumping Castle Party On The Gold Coast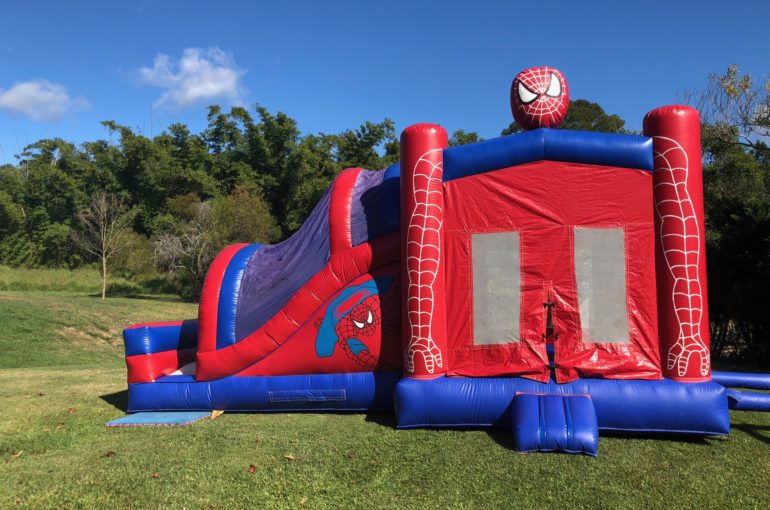 Have you promised your son or daughter a jumping castle party on the Gold Coast? If you have, then they're going to have an absolute ball, but more importantly, so are you!! By choosing to throw a jumping castle party on the Gold Coast, you can kick back, relax, and let the jumping castle take over all the stressful party host duties for you. No stressing over how to keep the kids entertained or what to do next, or worse, what to do when you're only two hours into a four-hour birthday party, and the kids are complaining that they're bored! All these potential nightmare situations are avoiding by simply hiring a jumping castle.
If you're looking to throw a jumping castle party on the Gold Coast and have no idea how to go about doing it, you've fortunately landed on the right page! Here, at The Fun Team, we specialise in jumping castles (and inflatables) and can not only supply you with the perfect jumping castle for your kid's party, but also provide a full run-down on how to go about planning it.
Continue reading to discover everything you need to know about throwing a jumping castle party on the Gold Coast.
Location is everything
To throw a jumping castle party on the Gold Coast, you need to have adequate outdoor space to place the jumping castle.
Don't be discouraged and feel you can't throw a jumping castle party if you don't have a lot of space. You don't need to have a large backyard, but you need to have at least 0.5 meters of clearance around the jumping castle for safety reasons. We have jumping castles of all sizes, from as small as 4m x 4m, so only 4.5×4.5m of land space if required.
Of course, any kids party is better where there is a lot of space for them to run around and play. Even when they have a jumping castle to play on, we usually find kids use their Imaginate and play games in and around the castle, so the more space, the better.
The great thing about throwing a jumping castle party on the Gold Coast is that you don't need to throw it at home. If you don't have a lot of space or would prefer not to have ten or so kids running amuck, high on adrenalin, racing around your home, then a local park is always a great option. We can supply a generator with the jumping castle, so there's no problem regarding power, and you're able to relax and let the kids play freely, knowing they won't break anything in your home!
Size Matters
Size always matters, but especially when we're talking about jumping castles. You need to hire the right size jumping castle for a) the age of the party guests and b) the number of party guests.
Jumping castles have limitations to both the age and number of persons each can support, so before you dive in and hire a jumping castle on the Gold Coast, you need to consider these two factors.
We have a range of jumping castles, small, medium, and large, to cater up to 8 years old and 12 years old and to support eight persons at a time, 10-12 persons at a time, or 12-15 persons at a time.
Believe me; you don't want to hire a jumping castle that's too small, leaving the kids to argue about whose turn it is to jump on it etc. Hiring the right size jumping castle for the party guests will make a massive difference in their happiness and your sanity.
Choose the right design
True, kids will have a ball of a time on any jumping castle, but if you're going to throw a jumping castle party on the Gold Coast, then choosing a design that your child will love will make them all the more excited.
If you're throwing an all-boys jumping castle party, then consider hiring something cool like a pirate-themed castle. If they're into anything in particular; Spider-Man, superheroes, Lego, etc., you'll also be able to find a themed castle for these popular brands within our jumping castles for hire.
Likewise, for girls, we have plenty of girly jumping castles for an all-girls party, including Disney princess jumping castles, Dragon Girl jumping castles, and Fairy jumping castles.
There's also a great selection of gender-neutral jumping castle designs for mixed parties, including our underwater and jungle jumping castles and our big bouncer.
Take your kid's jumping castle party on the Gold Coast to the next level by making it a themed party, matching your decorations, games, and activities to the jumping castle theme. There's nothing better – the kid's love it!
Think Outside The Box
Just because you're throwing a jumping castle party doesn't mean you have to hire a jumping castle! For something a little different, more challenging for the kids, consider hiring an inflatable along with or instead of a jumping castle. (Ask us about our combo party hire packages)
Inflatables, such as our obstacle challenge, obstacle course, and bungy run, provide another level of fun on top of just bouncing on them. They're great for ages 8-12 and older and will ensure the kids never bore from jumping up and down (like that's ever possible anyway!).
The Fun Team offers a range of inflatables. We have an inflatable pirate ship, a super slide, and a water slide/dry slide along with those mentioned above.
Conclusion
If you're planning to throw a jumping castle party on the Gold Coast for your son or daughter, then there are a few things to consider.
Firstly, consider the location of the party and whether there is enough outdoor space to fit a jumping castle. Secondly, consider the size jumping castle you need – it needs to be age-appropriate and suitable to hold the right number of children. Also, consider the jumping castles' design. While kids love any jumping castle, they will especially love one that themed to their favourite brand or character – they'll love it all the more if the party theme matches the jumping castle's theme! Lastly, think outside the box – you don't necessarily have to hire a jumping castle to have a jumping castle party on the Gold Coast. The age of your child and their friends may get more enjoyment from an inflatable.
After considering these elements, you'll be all set to book a jumping castle and send out the party invitations.
For the best jumping castles on the Gold Coast, look no further than us, The Fun Team. With boys, girls and gender-neutral jumping castles in our range, starting at a low $150 per hire, you're sure to find the right castle to meet your needs and budget.
To enquire about our kids party hire options, simply call 0412 313 335 or submit an online enquiry.