Are you looking for jumping castle hire Tweed Heads? Then you have come to the right place! The Fun Team is your fun partner! We specialise in bringing joy to children of Tweed Heads for any and all occasions, or no occasion at all. We could all do with a little joy after the horrid year that was 2020, and hiring an affordable jumping castle from the leading jumping castle hire comping in Tweed Heads will go a long way to achieve this.
Our range of jumping castles is ideal for family gatherings to celebrate birthdays, christenings, and other milestones. We have jumping castles for all ages and all occasions.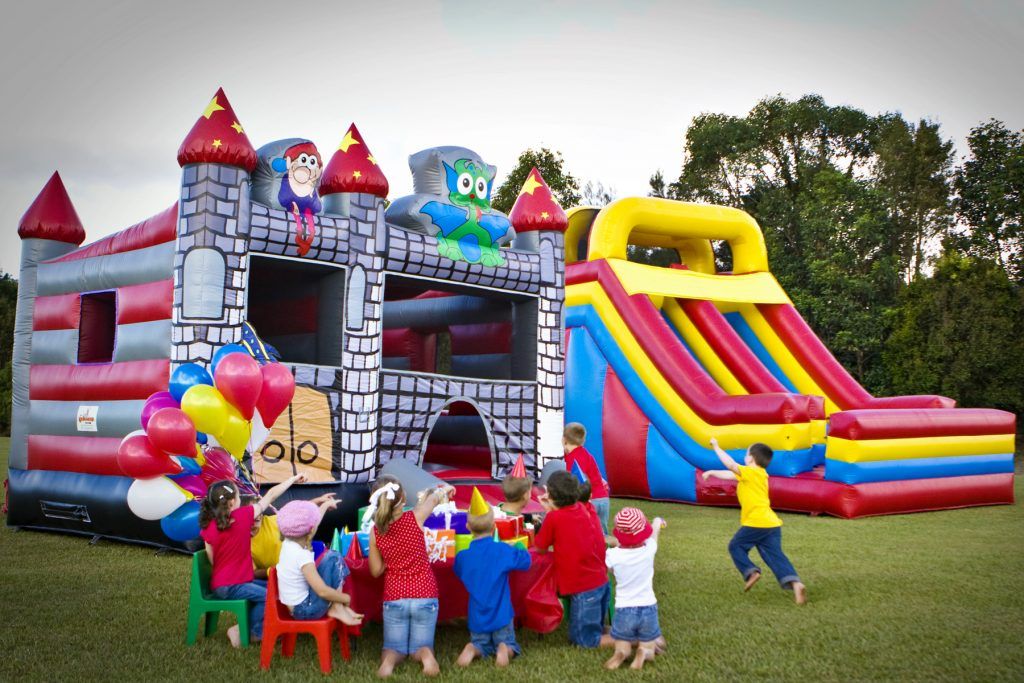 Themed Jumping Castle Hire
A jumping castle is cool, but a jumping castle that matches your kid's current passion is even cooler. At the Fun Team, our jumping castle hire Tweed Heads focuses on providing a wide range of themed jumping castle designs to satisfy all passions and interests.
We have pirates and superheroes, animals and dragons, princesses and fairies and of course, we have the most popular brands such as Disney, Super-Man and Lego. If your little one has an interest, then you're sure to find the perfect themed jumping castle hire in our range.
Jumping Castle Hire for up to 12-year-olds
With jumping castles, one size does not fit all! Little tots need little, safe jumping castles, while pre-teens need larger jumping castles to bounce high and run a muck with their friends. As such, The Fun Team's jumping castles come in a range of sizes to suit children up to 12 years of age.
For toddlers, we recommend our smallest 4m x 4m castles, which can hold up to 8 kids up to eight years of age. For older kids, options are plentiful. Our large 6.5m x 6.5m castles are great; they hold up to 15 kids up to twelve years of age.
Whether you have a three or four-year-old, or an eleven or twelve-year-old, we have a castle to suit your child and their friend's needs.
Jumping Castle Hire for the entire Tweed Heads
You'll have no trouble securing Jumping Castle Hire Tweed Heads with The Fun Team! We service the entire Tweed Heads, including the localities of Back Creek, Banora Point, Bilambil, Bilambil Heights, Bogangar, Bray Park, Brays Creek, Bungalora, Burringbar, Byangum, Byrrill Creek, Cabarita Beach, Carool, Casuarina, Cedar Creek, Chillingham, Chinderah, Chowan Creek, Clothiers Creek, Cobaki, Cobaki Lakes, Commissioners Creek, Condong, Crabbes Creek, Crystal Creek, Cudgen, Cudgera Creek, Doon Doon, Dulguigan, Dum Dum, Dunbible, Dungay, Duranbah, Duroby, Eungella, Eviron, Farrants Hill, Fernvale, Fingal Head, Glengarrie, Hastings Point, Hopkins Creek, Kielvale, Kings Forest, Kingscliff, Kunghur, Kunghur Creek, Kynnumboon, Limpinwood, Mebbin, Midginbil, Mooball, Mount Burrell, Mount Warning, Murwillumbah, Nobbys Creek, North Arm, North Tumbulgum, Numinbah, Nunderi, Palmvale, Piggabeen, Pottsville, Pumpenbil, Reserve Creek, Round Mountain, Rowlands Creek, Sleepy Hollow, Smiths Creek, South Murwillumbah, Stokers Siding, Stotts Creek, Tanglewood, Terragon, Terranora, Tomewin, Tumbulgum, Tweed Heads, Tweed Heads South, Tweed Heads West, Tyalgum, Tyalgum Creek, Tygalgah, Uki, Upper Burringbar, Upper Crystal Creek, Upper Duroby, Urliup, Wardrop Valley, Wooyung (part) and Zara.
Whether you live in Tweed Heads or on the Gold Coast, we can deliver a jumping castle to your location for your occasion.
Book Jumping Castle Hire Tweed Heads Today
Bring unmatched joy to your kids next birthday or celebration with jumping castle hire Tweed Heads from The Fun Team. We have an array of popular jumping castles for boys and girls up to the age of 12, which will be the highlight of any occasion.
View our range of jumping castles here and also, don't forget to view our inflatables range, which is suitable for kids up to 16 years of age. Whatever the celebration, we have something fun to offer.
Call us today on 0412 313 335 to secure jumping castle hire Tweed Heads from The Fun Team. We look forward to putting a smile on your child's face soon!